June 23, 1990. Left Missoula early in the morning and headed for Glacier Park some 150 miles to the north. Entered from West Glacier on the Going-To-The-Sun Highway. The high point of the road (literally) is Logan's Pass with an elevation of 6646 feet above sea level. Flatlanders beware. As already noted it was June 23--officially summer in the northern hemisphere.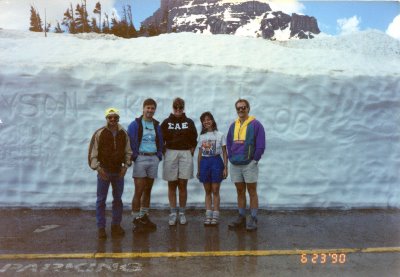 Yet here we stand in the parking lot on Logan's Pass with the carved out snow behind us. I am in the middle and the tallest of the group at 6'. That's the winter's snowfall behind us. The intrepid adventurers left to right Sully, Mike, me, Christine and Van.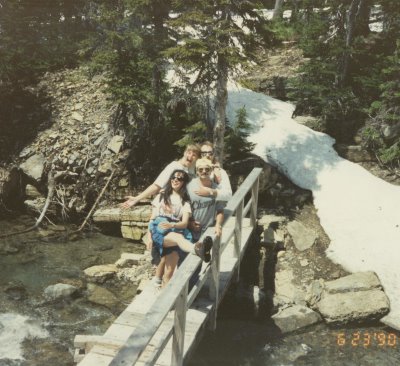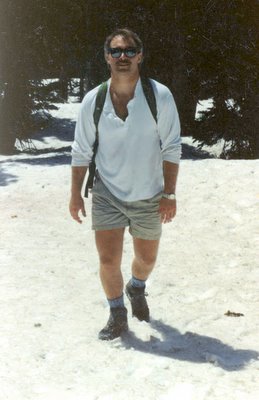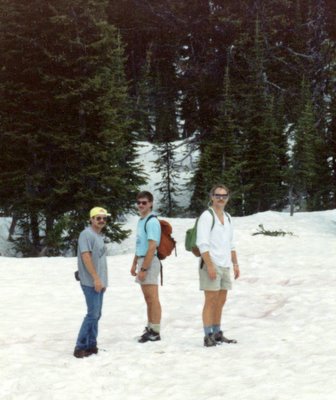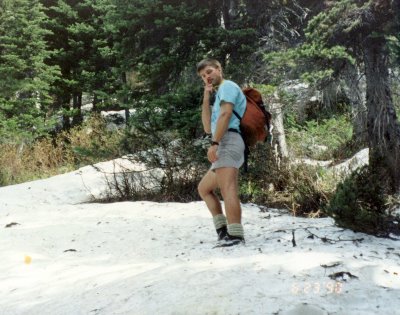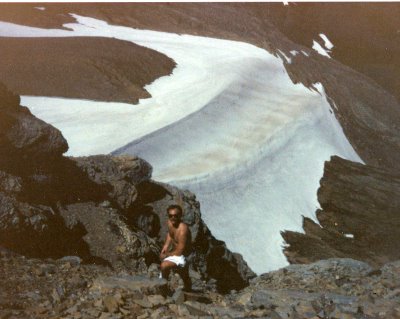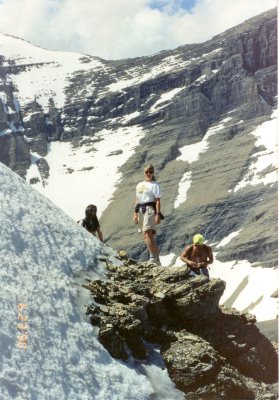 The hike we took was from Siyeh Bend over Siyeh Pass ending at Sunrift Gorge. It is a 10 mile hike with an elevation gain of 2,200 feet (plus or minus 680 feet--the elevations I was able to find on the web varied. The first few shots are from low on the trail when we were still getting warmed up. Don't let the snow fool you: we were in shorts because it was a warm summer day (well, warm by Montana standards. My blood has thinned a bit by the south and if I were in the photo today I would be in thermals and woolies... and wheezing) and we got downright hot as we hiked. It was not a difficult hike as they go, but it got the blood flowing!
As we came up to the pass the snow covered much of the trail and the loose shale was challenging to get around. When we finally got to the top, we took a well-deserved break for lunch on the pass. Then we started suiting up for the rest of the "hike".
As mentioned earlier it is a 10 mile hike. We, however, did not walk 10 miles. Much of the hike (the downward part) went very fast indeed. Garbage bags make great, light-weight, impromptu sleds. Whether you put them over jeans (go Sully!) or shorts, you are sure to make a "fashion statement".
We were seriously high in the mountains. Siyeh Pass at 8,240 ft. is the highest pass in Glacier Park which has a maintained trail going over it. In the pictures which look like snow with smudges in it there are either little itty bitty people waiting below or little itty bitty people coming down from above. Look closely. The descent is managed with built-in brakes called feet (and some of us got serious snow burns from them!). Van got the most style points coming down.
But all good things must end. We walked out towards Sunrift gorge. (And someone's sunglass strap ruined what would have been a perfect photo). Don't you wish you had grown up in Montana too so you could have had this kind of weekend fun?